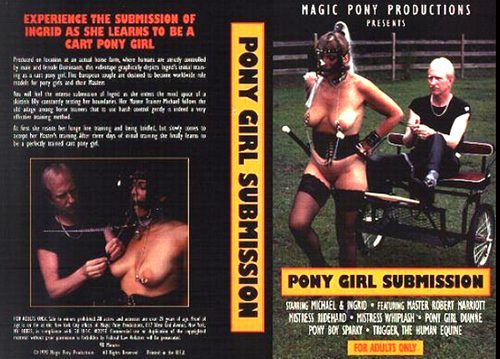 Genre: BDSM, Bondage, Fetish, Domination – M On F, Pony Girl, Outdoors,
Starring: Ingrid, Master Robert Marriott, Michael, Mistress Ridehard, Mistress Whiplash, Pony Boy Sparky, Pony Girl Dianne, Trigger
Watch Pony Girl Submission streaming online now. It features 3 different scenes starring Ingrid and Michael. Our favorite scene is a bdsm scene with Ingrid and Michael. The scene takes place inside a barn and features a lot of mouth gag, restraints and hogtie bondage.
Filesize: 606 MB  Duration: 01:44:58
Video: VC-1 (WMV3), 320×240, , 491 Kbps
Audio: WMA, 22.05 KHz, 1 channel