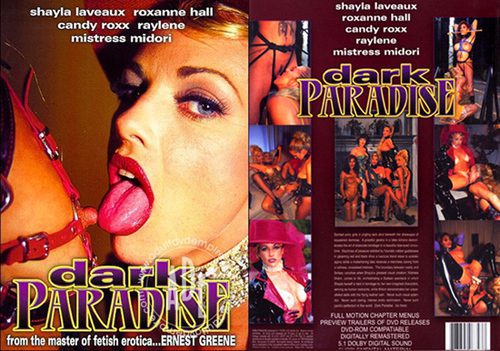 Genre: BDSM, Fetish, Bondage, Domination, Femdom, Pony Girl, Latex & Rubber, Lesbian
Stars: Mistress Midori, Candy Roxx, Roxanne Hall, Shayla La Veaux, Raylene
Spirited pony girls in jingling tack strut beneath the dressage's of equestrian dominas. A graceful geisha in a latex kimono demonstrates the art of elaborate bondage to a beautiful doe-eyed concubine. Machines of pleasure wielded by futuristic rubber goddesses in gleaming red and black drive a luscious blond slave to ecstatic agony while a misbehaving lass receives a merciless caning from a ruthless, corseted mistress. The boundary between reality and fantasy vanishes when Shayla's greatest visual creation, Mistress Midori, comes to life, orchestrating a Sadean spectacle in which Shayla herself is held in bondage by her own imagined characters, serving as human restraints, while Midori demonstrates her unparalleled skills with the flying leather lash. Never such visual splendor. Never such daring, intense erotic domination. Never such painful perfection in this world.
Format: mpg
Video: MPEG1 Video 352×240 (107:80) 29.97fps 1150Kbps
Audio: MPEG Audio 44100Hz stereo 224Kbps
Length: 01:18:05  Size: 778 MB