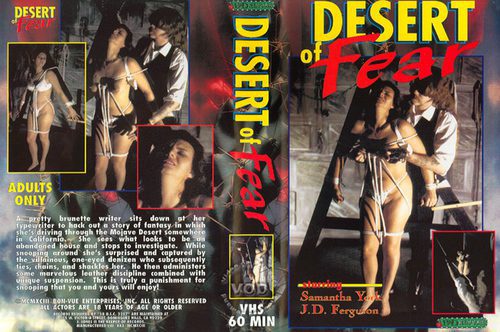 Genre: BDSM, Fetish, Femdom – F On F, Bondage, Hardtied, Domination – M On F
Starring: Samantha York, J.D. Ferguson
A pretty brunette writer sits down at her typewriter to hack out a story of fantasy in which she's driving through the Mojave Desert somewhere in California. She sees what looks like to be an abandoned house and stops to investigate. While snooping around she's surprised and captured by the villainous, one-eyed denizen who subsequently ties, chains, and shackles her. He then administers some marvelous leather discipline combined with unique suspension. This is truly a punishment for snooping that you and yours will enjoy!
Format: wmv
Video: Windows Media Video 9 480×360 29.97fps 1250Kbps
Audio: Windows Media Audio 48000Hz stereo 64Kbps
Length: 00:55:38  Size: 525 MB