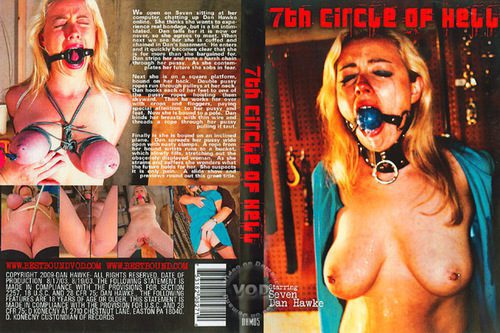 Genre: BDSM, Bondage, Fetish, Hardtied, Domination – M On F, Big Tits
Starring: Seven, Dan Hawke
Beautiful girls bound and gagged. Often features expert rope work. We open on Seven sitting at her computer, chatting up Dan Hawke online. She thinks she wants to experience real bondage, but is a bit intimidated. Dan tells her it is now or never, so she agrees to meet. When next we see her she is cuffed and chained in Dan's basement. He enters and it quickly becomes clear the she is in for more than she bargained for. Dan strips her and runs a harsh chain through her pussy. As she contemplates her future she sobs in fear.
Next she is on a square platform, bound on her back. Double pussy ropes run through pulleys at her neck. Dan hooks each of her feet to one of the pussy ropes hoisting them skyward. Then he works her over with crops and floggers, paying special attention to her pussy and feet. Now she is bound to a pole. Dan binds her breasts with thin wire and threads a rope through her pussy pulling it taut.
Finally is she is bound on an inclined plane. Dan spread her pussy wide open with nasty clamps. A rope from her bound wrists runs to a bucket, which slowly fills, stretching out the obscenely displayed woman. As she strains and suffers she wonders what the future holds for her. She suspects it is only. A slide show and previews round out this great title.
Format: wmv
Video: Windows Media Video 8 480×360 778Kbps
Audio: Windows Media Audio 44100Hz stereo 96Kbps
Length: 01:32:31  Size: 837 MB