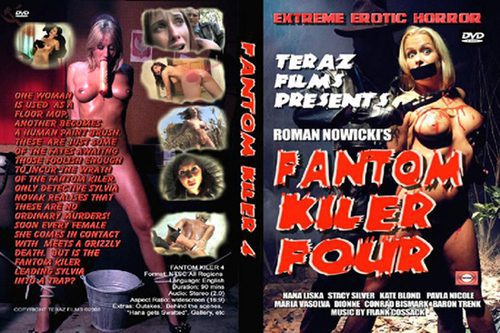 Genre: Exploitation, Fantastic, Extreme
Starring: Maria Vaslova, Hana Liska, Kate Blond, Pavla Nicole, Conrad Bismark
That's right…. the Fantom Kiler is back, doing what he does best… in the strongest and most outrageous sequel yet!
After the castrated body of a man is found pinned to a tree, Det Sylvia Kovak (Hana Liska) realises that she is dealing with no ordinary killer.
As, one by one, her friends suffer terrible and perverted deaths, the pretty detective suspects that the mysterious Fantom is playing games with her.
With no help from her colleagues, Sylvia decides to solve the case by herself, using her intelligence, her intuition and even her own body if need be. Unfortunately, she doesn't realize that she is walking right into his trap.
Format: avi
Video: Xvid 720×480 29.97fps 1321Kbps
Audio: MPEG Audio Layer 3 44100Hz stereo 128Kbps
Length: 01:29:28  Size: 932 MB