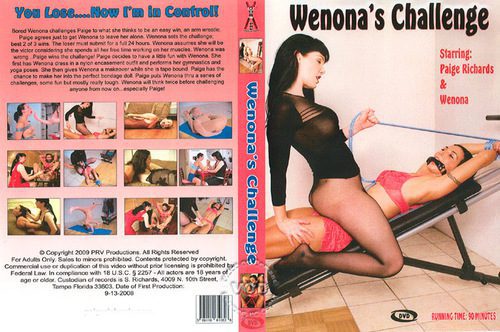 Genre: BDSM, Bondage, Fetish, All Girl
Starring: Wenona, Paige Richards
Bored Wenona challenges Paige to what she thinks to be an easy win, an arm wrestle. Paige agrees just to get Wenona to leaver her alone. Wenona sets the challenge; best 2 of 3 wins. The loser must submit for a full 24 hours… Wenona assumes she will be the victor considering she spends all her free time working on her muscles. Wenona was wrong… Paige wins the challenge! Paige decides to have a little fun with Wenona. She first has Wenona dress in a nylon encasement outfit and performs her gymnastics and yoga poses. She then gives Wenona a makeover while she is taped bound. Paige has the chance to make her into the perfect bondage doll. Paige puts Wenona thru a series of challenges, some fun but mostly really tough. Wenona will think twice before challenging anyone from now on…especially Paige!
Format: wmv
Video: Windows Media Video 9 480×360 29.97fps 1250Kbps
Audio: Windows Media Audio 48000Hz stereo 64Kbps
Length: 01:26:59  Size: 794 MB