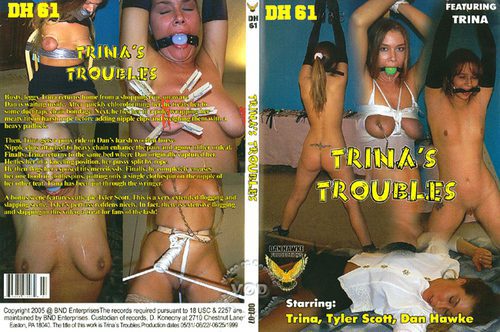 Genre: BDSM, Fetish, Bondage, Domination – M On F
Busty, leggy Trina returns home from a shopping trip, unaware Dan is waiting inside. After quickly grabbing her, he treats her to some duct tape chair bondage. Next, he ties her to a pole, wrapping her meaty tits in harsh rope before adding nipple clips and weighing them with a heavy padlock.
Then, Trina gets a pony ride on Dan's harsh wooden horse. Nipple clips attached to heavy chains enhance the agony of her ordeal. Finally, Trina returns to the same bed where Dan originally grabbed her. He ties her in a kneeling position, her pussy split by rope.
Format: wmv
Video: Windows Media Video 8 480×360 777Kbps
Audio: Windows Media Audio 44100Hz stereo 128Kbps
Length: 01:30:01  Size: 802 MB