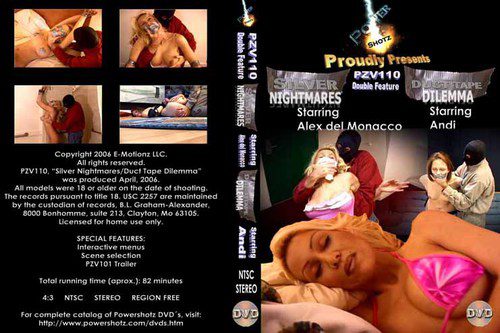 Genre: BDSM, Fetish, Bondage, Hardtied, Domination – M On F, Masks
Starring: Alex Del Monacco
Part I features starlet Alex Del Monacco retiring from the pool in string bikini on bed when man hops right on it and gets it done with duct tape on wailing bitch. Then studying a script in her hotel, while the hotel maintenance man studies her, with a roll of duct tape in his hand. Her rest period in the chair had to be induced with hand over mouth inhaler the duct tape over the mouth and eyes allows her to settle down and fall asleep. Next to the shower for a nice washup made easy using strict tape on rope restraint that allows easy cleaning of those hard to reach spots. In part II knockout Andi is abducted, taped up, bent over the couch for an ass inspection, stood up and looked over, then done on the floor.
Filesize: 1.14 GB  Duration: 01:58:12
Video: VC-1 (WMV3), 720×480, 30.000 fps, 1190 Kbps
Audio: WMA, 48.0 KHz, 2 channels