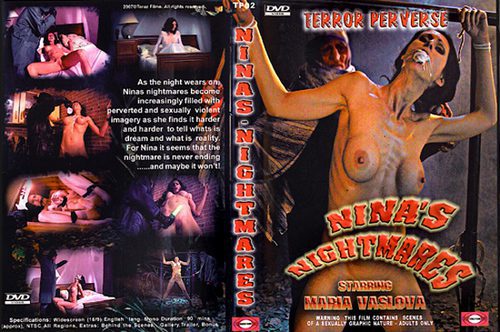 Genre: BDSM, Fetish, Hardcore, Masturbation
Starring: Maria Vaslova, Darius Schnell, Petr Sass, Elsa Nowak, Daniel Black, Piotr Dudek, Barbara Las
As the night wears on, Ninas nightmares become increasingly filled with perverted and sexually violent imagery as she finds it harder and harder to tell whats is dream and what is reality. For Nina it seems that the nightmare is never ending …. and maybe it won't!!! Contains graphic scenes of sadism, whipping, sexual violence, humiliation, bondage, outside nudity, veggie rape, cucumber rape, anal violations, beaten with a rug beater, forced orgasms, panties stuffed in mouth, confinement, etc..
Format: avi
Video: Xvid 640×416 29.97fps
Audio: MPEG Audio Layer 3 44100Hz stereo 128Kbps
Length: 01:03:36  Size: 699 MB