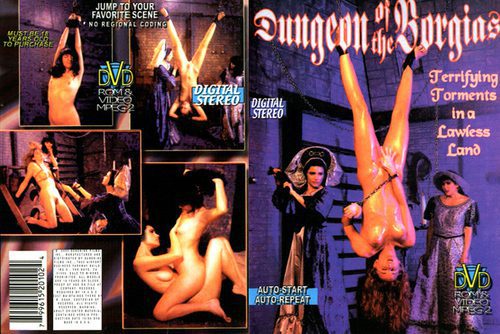 Genre: BDSM, Fetish, Bondage, Femdom – F On F, Dungeon
Starring: Alexis Payne, Ruby Richards, Geneva, Lisa Comshaw, Hana Ku
The Dungeon Of The Borgias, a terrifying place of punishment in a lawless land, is a place where many fair young maidens end up. When you are bad it is where you go to be punished and dominated by older women. This blend of fantasy and fright is a tantalizing and scary proposition for any appreciator of BDSM videos. You may know the historical Borgias as producers of three popes–including Innocent X, enemies of the Medici family, and generally ruthless and sinful aristocrats from the 1400s and 1500s with a penchant for theft and bribery, but this video exposes a totally new side of them.
Filesize: 193 MB  Duration: 00:56:14
Video: MPEG-4 Visual (DivX 5), 352×240, 29.970 fps, 420 Kbps
Audio: MPEG Audio MP3, Layer 3, 22.05 KHz, 2 channels