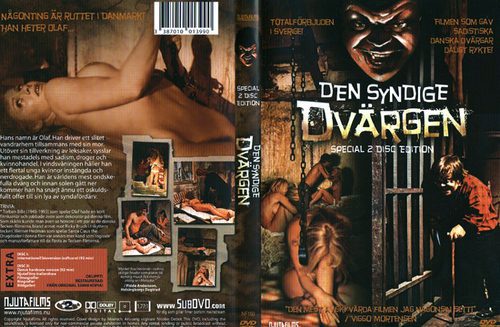 Genre: Exploitation, Horror, Gore Film
Starring: Anne Sparrow, Torben Bille, Tony Eades, Clara Keller, Werner Hedman
A young girl walks along the street with a warm smile on her innocent face. Just then a Dwarf named Olaf (Torben Bille) appears, leading a yapping toy dog. The girl is intrigued and picks up the toy. The Dwarf grins at her as he leads her away to a sinister boarding house where he states "I have more toys upstairs". As the girl smiles at the toys spread out before her?the Dwarf smashes her in the head with his cane! Peter (Tony Eades) and Mary (Anne Sparrow) are a young Couple down on their luck who arrive at the cheap boarding house looking for a place to stay. They are greeted by the weird alcoholic Mother of Olaf, Lila Lash (Clara Keller), who sports a disfiguring burn down her cheek, and are led up to their room. An evil glint is in the Mother's eye. It turns out the Mother and Son are running a white slavery sex ring. Three girls are kept in a locked attic room, drugged up on heroin (which is procured from a toy seller called 'Santa Claus' who delivers the drugs in stuffed toys) where they await the arrival of their 'clients'. And it seems the pretty Mary is next on the list to swell the sex slave ranks.
Format: avi
Video: Xvid 720×576 25.00fps
Audio: MPEG Audio Layer 3 44100Hz stereo 128Kbps
Length: 01:31:39  Size: 1897 MB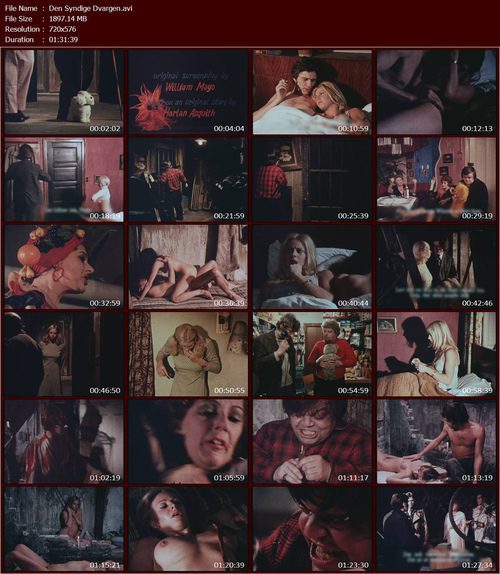 Download file – part1
Download file – part2
Download file – part3
Download file – part4