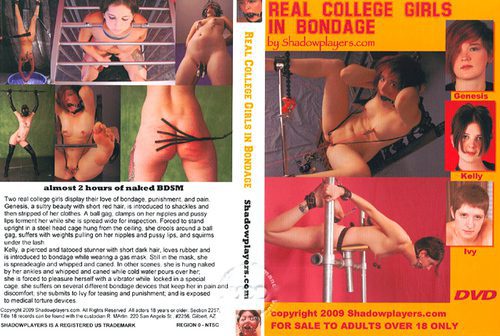 Genre: BDSM, Bondage, Sadism & Masochism, Submales, Genital Punishment, Spanking, Dildo
Starring: Kelly, Ivy, Genesis
Two real college girls display their love of bondage, punishment, and pain. Genesis, a sultry beauty with short red hair, is introduced to shackles and then stripped of her clothes. A ball gag, clamps on her nipples and pussy lips torment her while she is spread wide for inspection. Forced to stand upright in a steel head cage hung from the ceiling, she drools around a ball gag, suffers with weights pulling on her nipples and pussy lips, and squirms under the lash.
Kelly, a pierced and tattooed stunner with short dark hair, loves rubber and is introduced to bondage while wearing a gas mask. Still in the mask, she is spread eagle and whipped and caned. In other scenes, she is hung naked by her ankles and whipped and caned while cold water pours over her. She is forced to pleasure herself with a vibrator while locked in a special cage. She suffers on several different bondage devices that keep her in pain and discomfort. She submits to Ivy for teasing and punishment, and is exposed to medical torture devices.
Format: avi
Video: Xvid 640×480 29.97fps
Audio: MPEG Audio Layer 3 44100Hz stereo 128Kbps
Duration: 02:11:56  Size: 1204 MB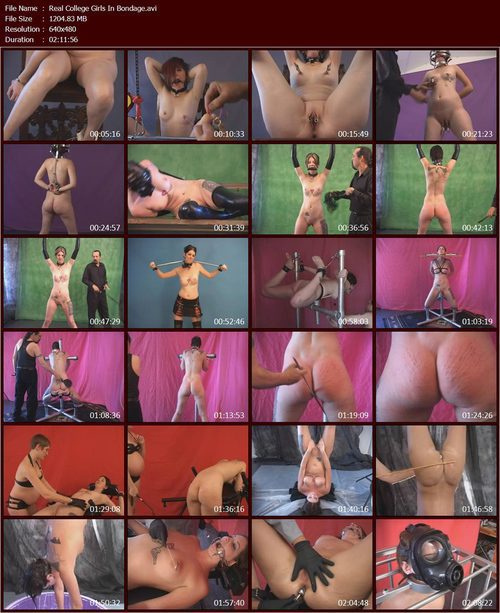 Download file – part1
Download file – part2
Download file – part3