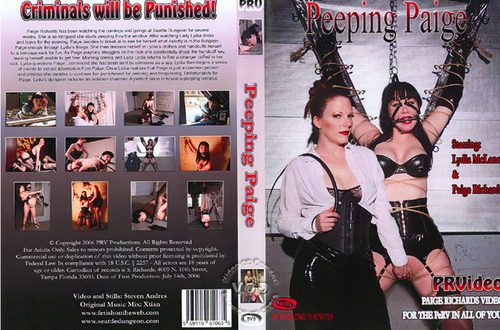 Genre: Bdsm, Fetish, Femdom – F On F, Lesbian, Gonzo
Starring: Paige Richards, Lydia McLane
Paige Richards has been watching the comings and goings at Seattle Dungeon for several weeks. She is so intrigued that she starts peeping thru the window. After watching Lady Lydia dress and leave for the evening, Paige decides to break in to see for herself what exactly is in the dungeon. Paige snoops through Lydia's things. She then dresses herself in Lydia's clothes and handcuffs herself to a bondage rack for fun. As Paige playfully struggles on the rack she accidentally drops the handcuff key, leaving herself unable to get free. Morning comes and Lady Lydia returns to find a stranger cuffed to her rack. Lydia questions Paige, convinced that she has been sent by someone as a spy. Lydia then begins a series of events to extract information from Paige. Once Lydia realizes that Paige is just a common pervert and criminal she decides to continue her punishment for peeping and trespassing. Unfortunately for Paige, Lydia's dungeon includes an isolation chamber. A perfect place to house a peeping criminal.
Format: wmv
Video: Windows Media Video 9 480×360 29.97fps 1250Kbps
Audio: Windows Media Audio 48000Hz stereo 64Kbps
Length: 01:07:18  Size: 630 MB