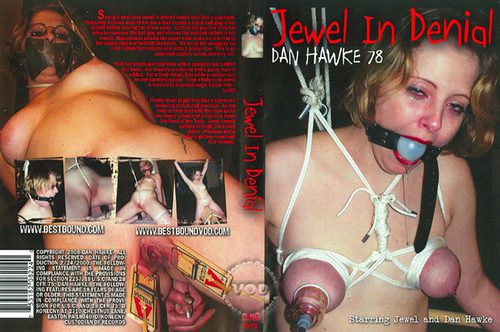 Genre: BDSM, Fetish, Bondage, Hardtied, Domination – M on F, Breast Play (Heavy)
Sexy girl next door Jewel is shoved rudely in Dan's playroom. Wrapping a noose around her neck Dan shoves a black ball gag in her mouth before tearing her dress away. Cutting her panties from her loins he removes the ball gag and shoves the wadded cotton in her mouth. Mousetraps spread her pussy wide and a cord is ties to the nipple ring and hoisted skywards. We enjoy her struggles for a bit before Dan returns and adds a pussy rope. There is an extended capture scene and very hot.
Next her wrists are held wide with a spreader bar behind her back. Her breasts are bound and pussy rope is added. For final detail, Dan adds a suction cup to one bursting nipple Then a fully nude Jewel is treated to a spread eagle horse ride- ouch!
Finally Jewel is put into Dan's signature kneeling crutch pull position. As her body arches wickedly the rope splits her cunny in two and drool runs down the front of her body. Jewel clearly suffers through the entire video!
Format: wmv
Video: Windows Media Video 9 480×360 29.97fps 1250Kbps
Audio: Windows Media Audio 48000Hz stereo 64Kbps
Duration: 01:29:52  Size: 811 MB