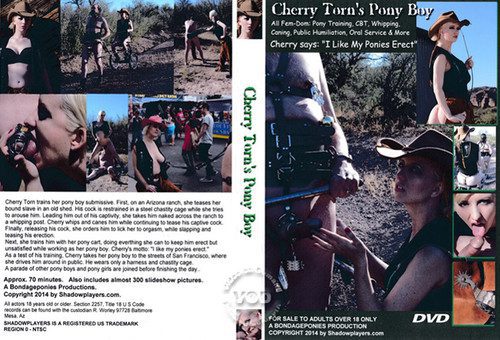 Genre: BDSM, Fetish, Femdom, Bondage, Hardtied, Pony Play, Outdoors
Starring: Cherry Torn
Cherry Torn trains her submissive pony boy at an Arizona ranch. She teases her bound slave in an old shed. His cock is contained in a steel chastity cage while she tries to arouse him. Leading him out, she takes him naked across the ranch to a whipping post. Cherry whips and canes him while continue to tease his caged cock. Finally releasing his cock, she orders him to lick her to orgasm, while slapping and teasing his erection.
Next, Cherry trains him with her pony cart, doing everything she can to keep him erect but unsatisfied while working as her pony boy. Cherry's Motto: "I like my ponies erect". As a test of his training, Cherry takes her pony boy to the streets of San Francisco, where she drives him around in public. He wears only a harness and chastity cage. A parade of other pony boys and girls are joined before the day is done.
Format: wmv
Video: Windows Media Video 8 640×480 777Kbps
Audio: Windows Media Audio 44100Hz stereo 128Kbps
Length: 01:11:12  Size: 1121 MB