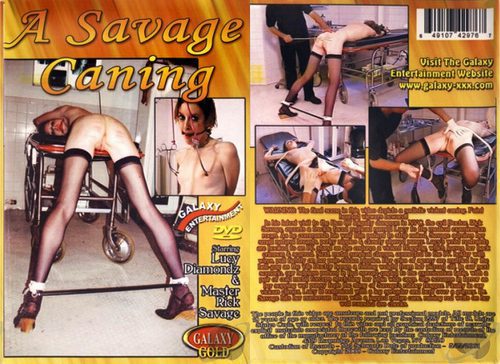 Genre: BDSM, Fetish, Bondage, Spanking
Starring: Lucy Diamondz, Rick Savage
The final scene in this video depicts a sadistic violent caning. Faint hearted viewers beware!
In his latest visit to the den of iniquity dungeon in NYC, the evil Doctor, Rick Savage, escorts a freckle faced redhead named Lucy to … Full Descriptionthe medial examination room. As he commands his waif thin patient to strip naked, Savage admires her small natural breasts, perky nipples and closely shaved pussy. Lucy's wrist restraints are hooked to an I.V. stand as she endures a violent flogging, which leaves her back crimson & scarred. Next, metal surgical clamps, connected to the I.V. holder with hires, pull tightly on her pain ridden nipples. Her cries of agony are muffled by the ball gag as the Doctor hangs a fishing weight from her pierced clit. In our next scenario, our helpless patient is tied spread-eagled to the examination table, with a pair of cold metal forceps stretching her labia wide open. She screams in terror as her sopping wet pussy feels the sting of Savage's rubber flogger.
Format: wmv
Video: Windows Media Video 8 472×352 777Kbps
Audio: Windows Media Audio 44100Hz stereo 128Kbps
Length: 00:54:07    Size: 463 MB