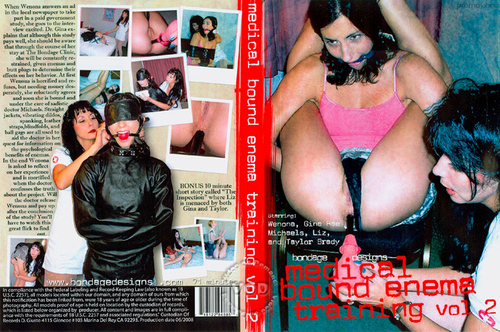 Genre: Fetish, Bondage, BDSM, Femdom, Spanking, Submales
Cast: Liz, Gina Rae Michaels, Wenona, Taylor Brady
When Wenona answers an ad in the local newspaper to take part in a paid government study, she goes to the interview excited. Dr. Gina explains that although this study pays well, she should be aware that through the course of her stay at The Bondage Clinic, she will be constantly restrained, given enemas and butt plugs to determine their effects on her behavior.
At first Wenona is horrified and refuses, but needing money desperately, she reluctantly agrees and soon she is bound and under the care of sadistic doctor Michaels. Straitjackets, vibrating dildos, spanking, leather straps, blindfolds, and ball gags are all used to aid the doctor in her quest for information on the psychological benefits of enemas.
In the end Wenona is asked to reflect on her experience and is mortified when the doctor confesses the truth about the project. Will the doctor release Wenona and pay up after the conclusion of the study? You'll have to watch this great flick to find out.
Format: avi
Video: Xvid 640×480 29.97fps
Audio: MPEG Audio Layer 3 44100Hz stereo 128Kbps
Duration: 01:25:00  Size: 840 MB