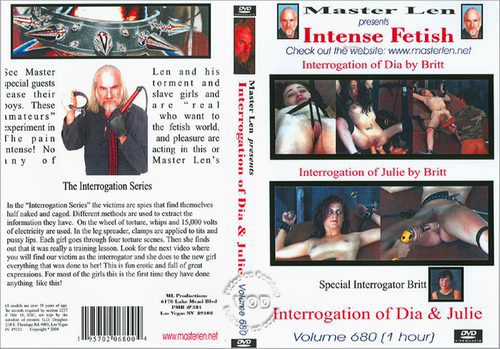 Genre: BDSM, Fetish, Domination – M on F, Amateur
Starring: Dia, Julie, Master Len
See Master Len and his special guest torment and tease their slave girls and boys. These are 'real amateurs' who want to experiment in the fetish world. The pain and pleasure are intense! No acting in this or any of Master Len's movies. In the 'Interrogation Series' the victims are spies that find themselves half naked and caged. Different methods are used to extract the information they have. On the wheel of tease, whips and 15,000 volts of electricity are used. In the leg spreader, clamps are applied to tits and pussy lips. Each girl goes though four tease scenes. The she finds out that it was really just a training lesson. Look for the next video where you will find out victim as the interrogator and she does to the new girl everything that was done to her! This is a fun erotic and full of great expressions. For most of the girls this is the first time they have done anything like this!
Format: wmv
Video: Windows Media Video 9 480×360 29.97fps 1250Kbps
Audio: Windows Media Audio 48000Hz stereo 64Kbps
Duration: 01:03:00  Size: 565 MB