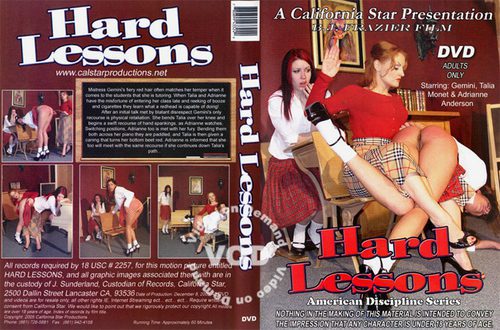 Genre: BDSM, Fetish, Femdom, Spanking, Schoolgirls
Starring: Talia Monet, Mistress Gemini, Adrianne Anderson
Mistress Gemini's fiery red hair often matches her temper when it comes to the students that she is tutoring. When Talia and Adrianne have the misfortune of entering her class late and reeking of booze and cigarettes they learn what a redhead is capable of doing! After an initial talk met by blatant disrespect Gemini's only recourse is physical retaliation. She bends Talia over her knee and begins a swift recourse of hand spankings, as Adrianne watches. Switching positions, Adrianne too is met with her fury. Bending them both across her piano they are paddles, and Talia is then given a caning that turns her bottom beet red. Adrianne is informed that she too will meet with the same recourse if she continues down Talia's path!
Format: avi
Video: Xvid 640×480 29.97fps
Audio: MPEG Audio Layer 3 44100Hz stereo 128Kbps
Length: 01:00:00  Size: 864 MB