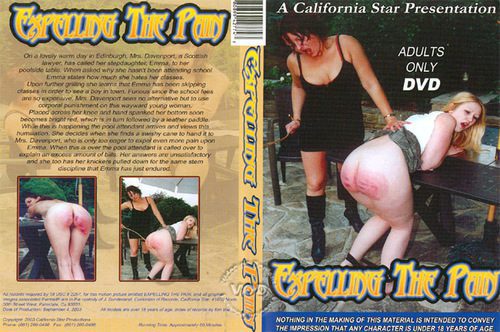 Genre: BDSM, Fetish, Spanking (See Spanking), Schoolgirls
On a lovely warm day in Edinburgh, Mrs. Davenport, a Scottish lawyer, has called her stepdaughter, Emma, to her poolside table. When asked why she hasn't been attending school Emma states how much she hates her classes. Upon further grilling, she learns that Emma has been skipping classes in order to see a boy in town. Furious since the school fees are so expensive, Mrs. Davenport sees no alternative but to use corporal punishment on this wayward young woman.
Placed across her knee and hand spanked her bottom soon becomes bright red, which is in turn followed by a leather paddle. While this is happening the pool attendant arrives and views this humiliation. She decides when she finds a swishy cane to hand it to Mrs. Davenport, who is only too eager to expel even more pain upon Emma. When this is over the pool attendant is called over to explain as excess amount of bills. Her answers are unsatisfactory and she too has her knickers pulled down for the same stern discipline that Emma has just endured.
Format: wmv
Video: Windows Media Video 9 640×480 25.00fps 1800Kbps
Audio: Windows Media Audio 44100Hz stereo 128Kbps
Length: 00:48:49  Size: 677 MB