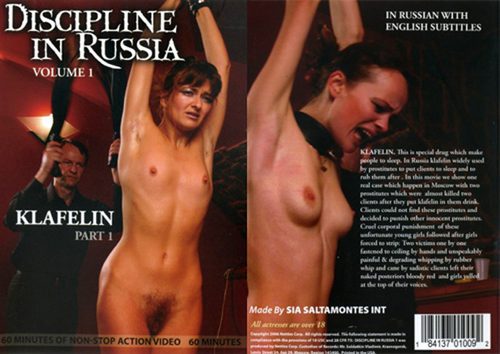 Genre: BDSM, Spanking
Their sadistic clients do not stop until their naked bottoms are striped red and the girls are yelling for mercy.
Klafelin is a special drug which puts people to sleep. In Russia, this drug is widely used by prostitutes to put their clients to sleep so that they may rob them. This movie tells the true story which took place in Moscow, where two prostitutes almost killed two clients after spiking their drinks with Klafelin. The clients never did find the prostitutes responsible and so decided to take their revenge on other innocent prostitutes. The two victims are forced to strip to endure cruel corporal punishments and each one is tied by their hands to the ceiling to receive an unspeakably painful and degrading whipping with a rubber whip and cane.
Format: avi
Video: DivX 5 720×480 29.97fps
Audio: MPEG Audio Layer 3 44100Hz stereo 128Kbps
Length: 00:57:40  Size: 671 MB