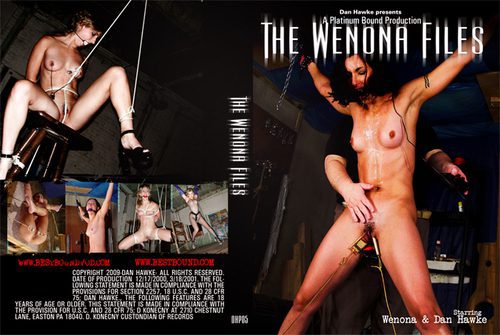 Genre: BDSM, Bondage, Domination – M on F, Master
Starring: Dan Hawke, Wenona
Who is the real Dan Hawke? A fluffy teddy bear – or a cruel sadist. Take a peak under the hood with Dan as your guide. He tells you where his dark fantasies began and walks you through six exciting scenes with fan favorite Wenona and your narrator is much less and much more than the lovable bondage producer you know.
Wenona is suspended three different times. She is chair tied in the classic whitmore (nee' Blakemore) style with a pussy rope through a pulley suspending her foot in the air. Taking advantage of her flexibility he ties her into a tight ball of sweaty female flesh, her pussy held open for study.
Finally he spread eagles and zpas the model without a doubt the harset scene Dan had ever filmed of Wenona. Her screams, sweat and drool will let you know what you are watching is very real and the whole time, Dan is letting you know what he really thinks or is he? Featuring scenes compiled from over four years of working with Wenona we know you're gonna love this title!
Format: wmv
Video: Windows Media Video 9 720×480 29.97fps 1177Kbps
Audio: Windows Media Audio 48000Hz stereo 64Kbps
Length: 01:38:59
Size: 810 MB