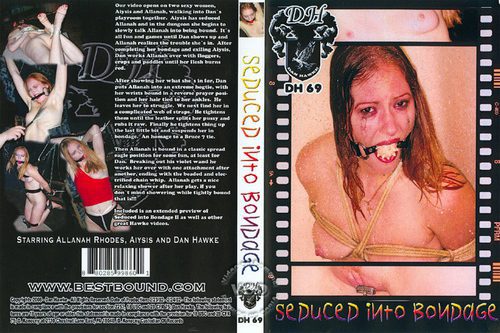 Genre: BDSM, Fetish, Bondage, Domination – M on F, Hardtied
Starring: Allanah Rhodes, Aiysis, Dan Hawke
Our video opens on two sexy women, Aiysis and Allanah, walking into Dan's playroom together. Aiysis has seduced Allanah and in the dungeon, she begins to slowly talk Allanah into being bound. It's all fun and games until Dan shows up and Allanah realizes the trouble she's in. After completing her bondage and exiling Aiysis, Dan works Allanah over with floggers, crops, and paddles until her flesh burns red.
After showing her what she's in for, Dan puts Allanah into an extreme hogtie, with her wrists bound in a reverse prayer position and her hair tied to her ankles. He leaves her to struggle. We next find her in a complicated web of straps. He tightens them until the leather splits her pussy and rubs it raw. Finally, he tightens things up the last little bit and suspends her in bondage, an homage to a Bruce 7 tie.
Then Allanah is bound in a classic spread eagle position for some fun, at least for Dan. Breaking out his violet wand, he works her over with one attachment after another, ending with the beaded and electrified chain whip. Allanah gets a nice, relaxing shower after her play, if you don't mind showering while tightly bound that is!
Format: wmv
Video: Windows Media Video 8 480×360 777Kbps
Audio: Windows Media Audio 44100Hz stereo 128Kbps
Length: 01:36:42  Size: 891 MB