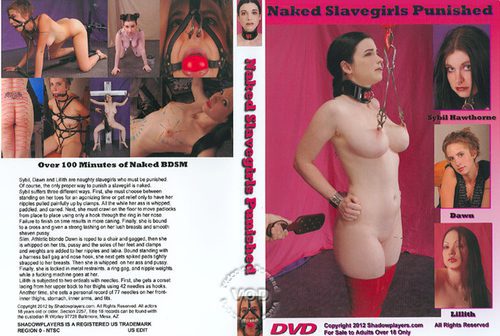 Genre: BDSM, Bondage, Fetish, Spanking, Humilation
Starring: Dawn, Lillith, Sybil Hawthorne
Sybil, Dawn and Lillith are slavegirls who must be made to endure every whim that their demanding master has! Of course, the only proper way for his point to be made is if the girls are as naked as the day they were born. Sybil's endurance is stretched to the limit in three ways. First, she must choose between standing on her toes for an agonizing time or get relief only to have her nipples clamped while her bottom is paddled. Next, she must crawl on the floor to move padlocks from place to place using only a hook through the ring of her nose. Failure to finish on time results in more paddling. Finally, she is bound to a cross and given a strong lashing on her lush breasts and smooth shaven pussy.
Slim, athletic blonde Dawn is roped to a chair and gagged, then she is paddled across her tits, pussy and the soles of her feet and clamps and weights are added to her nipples and labia. Bound standing with a harness bail gag and nose hook, she next gets spiked pads tightly strapped to her breasts. The she is lashed on her ass and pussy. Finally, she is locked in metal restraints, a ring gag, and nipple weights while a fucking machine goes at her.
Lillith is subjected to two ordeals with needles. First, she gets a corset lacing from her upper back to her thighs using 42 needles as hooks. Another time, she sets a personal record of 77 needles on her front-inner thighs, stomach, inner arms, and tits!
Format: wmv
Video: WVC1 640×480 29.97fps 1241Kbps
Audio: Windows Media Audio 44100Hz stereo 64Kbps
Length: 01:44:21  Size: 966 MB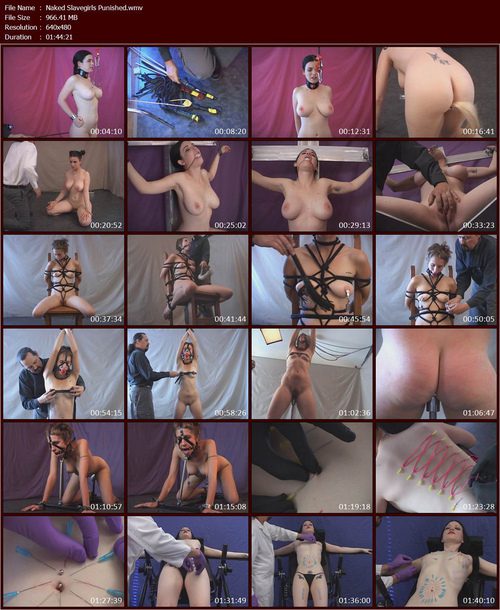 Download file – part1
Download file – part2
Download file – part3