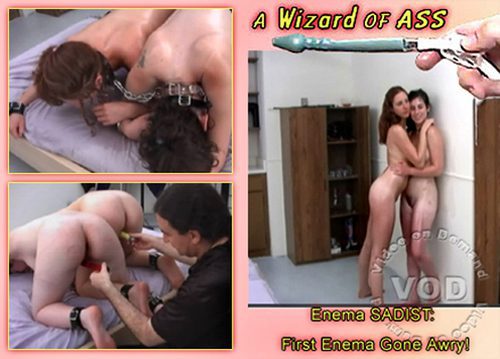 Genre: BDSM, Fetish, Enema, Oral
Starring: Jessica, Andre Chance, Tempestt
For Sadists Only! If you like to see girls cry from intense inflatable-balloon enemas in hogtie bondage, this is the film for you…Delicate, beautiful Tempestt gets introduced to enemas in an over-the-top way by her sadistic date. For starters, he puts her in tight hogtie bondage together with slutty Jessica, who as usual has a grand time through everything. Jessica is a sizzling babe, but Tempestt steals the spotlight…Tempestt had never been tied up or dominated before. She does barely ok with breat pumps, mouth gags, forced masturbation, extensive whipping, thermometers in all 3 holes, and whole butter stick up her butt. (Jessica, tied up alongside her, gets identical treatment)But a large enema with a double balloon inflatable nozzle proves too much for Tempestt, and she breaks into tears and loud sobbing (through her mouth gag) for a long time! Jessica took her own enema alongside. Both girls then expel their enemas buckets, while still hogtied together.Tempestt is still shaken after she gets freed up and finishes up on the toilet_still handcuffed Jessica, who has to share the toilet. The girls straddle each other and cuddle up on the toilet seat, rubbing each other's bellies.The tears are very real: if they weren't, you'd see Tempestt on the podium at the Oscars awards!Why did Tempestt cry so much? Cramps, sure. Fullness sure. But perhaps more than anything else it was the intensity of the complete experience: so much, so intense for her first time.
Format: avi
Video: MSMPEG4v3 480×360 29.97fps 884Kbps
Audio: PCM 48000Hz stereo 1536Kbps
Length: 00:53:59  Size: 940 MB